Website Design For Educational Institutions
We'll help tell the story of your business through a vibrant, professional website designed just for you
Standout Website Features
We have ensured that your website is education centric and gives you an edge over your competitors right from the first click.
Education Centric UI Design

We excel in developing custom websites for Educational Institutions. If you require solutions tailored to your institutions specific needs, we've got you covered. Personalize your website experience and dazzle your visitors with our platform design and your branding!

We combine Best in Class design with unlimited content to ensure your website captures the heart of your institutions identity with an unforgettable online presence.

Mobile First Approach

Mobile devices have taken over as the primary way people experience the web, making responsive design more important than ever. A "mobile-first" approach involves designing a desktop site starting with the mobile version, which is then adapted to larger screens, contrary to the traditional approach of starting with a desktop site and then adapting it to smaller screens.

A responsive web design allows your website to respond, or adapt, to various browser sizes, creating an optimal viewing experience regardless of the device you're using.

Content Management System

Most educational institutions are looking for ways to quickly engage parents with news from the classroom, a Content Management System is a great platform for creating any sort of educational content in real time. Education organizations can make WordPress adapt easily to their needs. Web developers can add capabilities to WordPress or extend the existing capabilities, without hacking the core system.

WordPress's responsive design makes it incredibly mobile-friendly and able to offer an optimal viewing experience on any device.

Dedicated Project Coordinator

DigiGro projects are managed by carefully handpicked Project Team members. These Teams are led a by dedicated Project Coordinators. The Project Coordinator acts as the first point of contact for all client communication and engages with the team to keep all the work in sync.

The Project Coordinator has a full  customer's requirements and expectations and can thereafter begin prioritizing customer's needs and developing a workable path to success.

Custom Designed Animated Banners

The Website banner area of your website is considered premium digital real estate. We enrich your user experience by creating personalized featured images, pop-ups and captivating content. Your visitors process information better visually and the website banner is a great place to capture your audience and display important information.

The purpose of a website banner is to create a focus point to be the first thing noticed, which is why it is so critical for educational institutions to to get their banner right.

Smooth Handover to Maintenance Team

A site handover is a transfer of digital assets, licenses and credentials: from the web designer to either the institutions internal team or the Web Maintenance team selected by the institution. DigiGro ensures that all of the institutions digital assets are available within a unified space called the Client Zone. The credentials to the Client Zone are shared with the client as part of the forma website handover process.

On Page SEO

If someone searches for your educational institution on Google (or another search engine), you want your school to be the top result!  On-page SEO is the practice of optimizing individual web pages in order to rank higher and earn more relevant traffic in search engines.

DigiGro ensures that your website meets SEO best practices and continually works towards boosting your site's ranking.

CRM & ERP Ready

For educational institutions ERP software is a big boon which helps them to streamline the classroom activities. It ensures that many classroom management activities can be done in a faster and more effortless way making classroom management hassle free and easier than ever before.

Digigro works very closely with your ERP Vendor to ensure that the ERP system is seamlessly integrated with your website.
---
---
Education Focussed Modules
A well-designed website is an essential part of any education venture, regardless of the type of knowledge offered or the desired audience that you're trying to reach.
Fee Payment Module

Career Module

Placement & Training

Latest Campus News

Upcoming Events

Faculty Bios

Student Testimonials

Alumni Stories

Student Project Submission

Grievance Redressal

Chatbot

Learning Management Solutions
Partner Services
We have identified best in call services providers and on-boarded them as partners to ensure you get a one stop solution to all your digital requirements.
Institutional Video's
Campus Photo Shoot
IP & Regulatory Consulting
Educational Content Writers
ERP Solution Experts

Digital Marketing Experts
IT Services – Hosting & Migration

WhatsApp Bot
EDUCATION CENTRIC WEBSITES
We combine Best in Class design with unlimited content to ensure your website captures the heart of your institutions identity with an unforgettable online presence.
Our Process
Every project we work on is unique but our approach is always the same. Why? Because it works. We've got processes in place to ensure that you get exactly the results you need.

Research & Ideation
By tracking the latest trends in ed-tech and keeping ahead of the curve in creative design, we ensure that our websites bring the most compelling image of our clients' schools to the web.

Prototyping
We partner with School stakeholders at every stage in the process. User Persona mapping, User Journeys, Site Maps, Wireframes and Mock Designs

Data Collection
We deploy our carefully-designed templates for data collection at the start of the build: just log in, fill in and submit your details, and leave the design and execution to us.

On Time Delivery
Each project is executed by a designated team and has a guaranteed turnaround time from data collection to project delivery.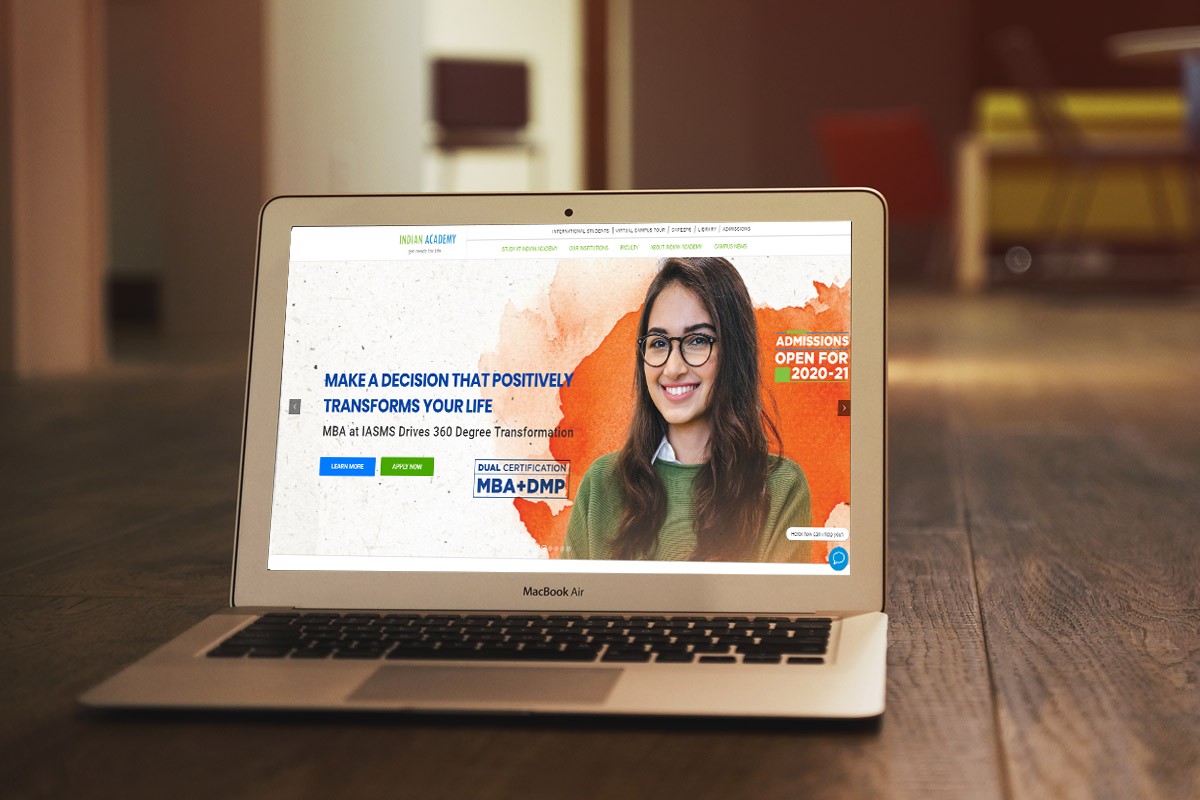 WEBSITE DESIGN CASE STUDIES
Indian Academy Case Study
Indian Academy required Digigro to redesign their website and make it look modern. They also wanted to give each Institutions a landing page while ensuring that the Group's identity is retained. Another key requirement was to make the website responsive. The client wanted to simplify the News, Events and Gallery Update Process.
As it was admission season the client wanted Digigro to Fasttrack Development to less than a month to ensure Marketing does not get impacted.
DigiGro has an excellent team and did an amazing job on my website. I really appreciate the team work and can recommend them to my contact list. keep up the good work.

Exceptionally talented team!! I was impressed with their clear communication,  on time delivery and overall project quality. Will recommend them to everyone who needs a website done professionally!!

The SD team is always looking for new and interesting business opportunities. If you have a bright idea and want to bounce it off someone who has been there and done it, look no further!

Excellent Support and On-time Delivery. Good work done by SigntoDesign. Will surely recommend them to my fraternity.

This Saturday and Sunday we have reached a mile stone sales number on wfh.transteel.com of 20 Lakhs & 15 Lakhs respectively ! This would just not have been possible without the sincere & whole hearted efforts of both Dhaneel & you along with the terrific team that you have at DigiGro. The relationship between Transteel & DigiGro is a sign of the new normal, as even though I have met with Dhaneel just once and have never met anyone else in your team ( including you) this is one relationship that I cherish and trust the most among all of the other partners that support Transteel. No amount of words can express my appreciation for not just the quality of work, but the personal care, genuine interest shown in solving the many challenges that we have faced, passion to constantly think out of the box to grow our business, lastly and most importantly the warmth and empathy that is shown on a daily basis by everyone at DigiGro . Nasreen & I look forward to long and mutually beneficial relationship with you, Dhaneel and the team at DigiGro. Thank you once again for everything.

It is really a great moment for us to work with you guys. Very professional, everything went as per your road map & calendar. I once again thank the entire team & appreciate the consistent follow-ups in getting inputs from us. I thank you for your support in making the JVIT website very attractive. All the best.

Happy to be associated with you guys!! At a time when we were looking for a vendor who can provide a great website experience. The cooperation earned from your team has been unassailable. Their advice on digital marketing and digital platform ideas has been exceptional. In our 3 years of operations, we have seen Digital marketing companies face tough times to provide consistent support. Communication, Support and overall experience from Digigro is remarkable and we see a very clear structured process in their operations. We the PNC Cognitio family wish them all the best in every endeavor and look forward to a long-lasting association with them.

We have had the absolute pleasure of working with Digigro on multiple projects . We have found them to be organized, professional and skillful. We would readily recommend them to any organization as a potential web services partner.

DigiGro is the best web development company we have ever worked with. Our school website was developed exactly as we wanted. With an eye for detail & a great understanding of clients needs. Great project management with the delivery of desired result. Highly recommend this company for education based web development!

The team at DigiGro has been really helpful in running our school website smooth and they are really swift. We trust them to manage and maintain our website and our social media pages without any worry. Best decision to have entrusted them with our website Maintenance and service.

Happy to be associated with you guys,

At a time when we were looking for a vendor who can provide a great website experience. The cooperation earned from your team has been unassailable. Their advice on digital marketing and digital platform ideas have been exceptional.

In our 3 years of operations we have seen Digital marketing companies face tough time to provide consistent support.

Communication, Support and over all experience from sign to design is remarkable and we see a very clear structured process in there operations.

We the PNC Cognitio family wish them all the best in every endeavor and look forward for a long-lasting association with them.

We are very happy about the work you are doing from past an year and this is a small testimony from our end:

DigiGro has helped us redesign our website. They not only reduced its loading time by implementing the right technology but also ensured that it is attractive and easy-to-use. They developed each module by understanding our needs effectively and ensured seamless communication for managing and delivering regular updates.

Its almost a year now and we can see lot of improvement in our website traffic, the creatives designed for social media are just awesome, we Highly Recommend them if you are looking for a vendor for all kind of digital exercises.
Our Key Clients