The W3 Methodology
For Educational Institutions
IN TODAY'S DIGITAL MARKETPLACE, YOU ARE ONLY AS GOOD AS YOUR DIGITAL FOOTPRINT!
The W3 Methodology ensures a fully maintained website, updated content, and guaranteed online credibility while you embark on the road to digital mastery.
---
---
W3
WEB INFRA MANAGEMENT
TECHNICAL MAINTENANCE
CONTENT MANAGEMENT
WEB DEVELOPMENT

W3 +
+ SOCIAL MEDIA MANAGEMENT
+ SEARCH ENGINE OPTIMIZATION (SEO)
+ PPC MARKETING (SEM)
+ BRANDING
---
---
Solutions For All Types Of Educational Institutions
Educational Institutions have unique digital requirements and we ensure that our product strategy, processes, and our team's priorities are completely aligned to those of the educational institutions who partner with us.
---

Website Infra (WI)
Domain Registration Support
Cloud Hosting Setup
SSL Certificate Setup
Scheduled Website Backup
SLA Driven Website Restoration
Website Uptime Monitoring Setup
Server Performance Management
Establish Asset Ownership
Renewal Intimation

Website Maintenance (WM) 
Malware Scanning
Plugin & Theme Vulnerability Scanning
Blacklist Monitoring
Spam Protection
Image & Database Optimization
Technical Updates & Support
Website Bug Fixing
Plugin and Theme Updates
Technical Website Audit


Content Management (CM) 
SLA Driven Content Update on the Website
News & Events Update
Gallery & Video Update
Homepage Banner Update
Establishing Content Ownership & Workflow
Ticket based Tracking And Reporting
Proactive Content Gathering
Content Propagation on Social Media
Google Review Management


Development Related
New Page Development
New Website Functionality
3rd Party Script Integration
Website Migration
---
---
Social Media Management
Social Media Strategy
Custom Festive & Branding Creatives
News & Event Posting on Social Media
Social Media Advertising

Branding
Logo Design
Branding Collateral
Marketing Collateral
Online Communication
Search Engine Optimization
White-Hat SEO Techniques
Documented Results
Qualified SEO Specialists
Transparent Monthly Reporting
PPC Advertising
Targeted Advertising
Dedicated Account Manager
Online Real Time Dashboards
Full Transparency & Control
---
Reports & Dashboards
We provide reports and a custom built Online Management Dashboard to relevant organisational stakeholders and provide detailed KPI reports to the management and administrative teams by e-mail.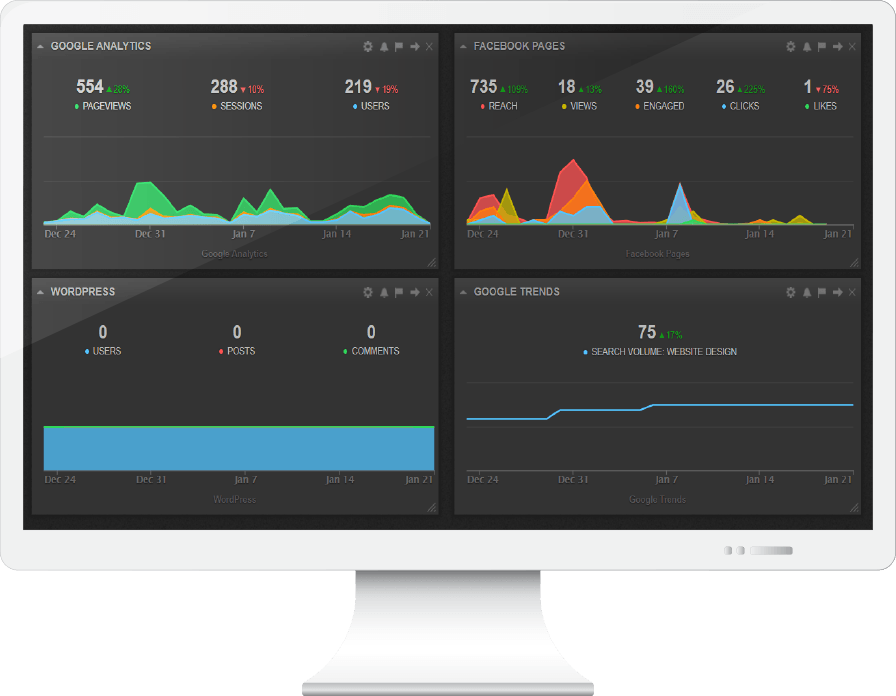 Content Status Report
Available Real-time on Online Dashboard
Weekly Consolidated Report by Email

Website Status Report
Available Real-time on Online Dashboard
Weekly Consolidated Report by Email
Delivery SLAs
Don't just take our word for it, see your performance and savings in action. With a custom-built report and real time updates of critical KPIs, you will be primed for course-correction or maintenance at all times. No more losing money on the unexpected.

Technical Maintenance
Website Backup
Daily Backup to AWS Servers
Website Restoration
Site Restoration within 12 Hours of Downtime intimation
Malware Scan
Daily Malware Scan
WordPress, Theme and Plugins Updating
Weekly Scan and Update.
Content Management
Minor Content Changes - Urgent
2 Working Hours from when request is received.
Minor Content Changes - Regular
4 Working Hours from when request is received.
News & Events Update
6 Working Hours from when request is received.
Homepage Banner Updates
12 Working Hours from when request is received.

Development Related
New Page Request
12 Working Hours from when request is received.
New Website Functionality
Case to Case Basis
3rd Party Script Integration
12 Working Hours from when request is received
Website Migration
Case to Case Basis
Support & Communication
Having problems using our service? Our Customer Support Team is eager to help you with any service-related questions.
Communication
Helpdesk Call, WhatsApp, Support Email, Support Chat
Support Tickets are generated for each request
Call : +91 95 3838 9911
Email: support@digigro.freshdesk.com

Working Hours
9 AM to 6 PM - Monday to Saturday
Sundays & Public Holidays - Case to Case Basis, based on priority
Emergency Server Support – As and When Required

Escalation
Level 1 - Client Coordinator
Level 2 - Client Relationship Manager
Level 3 - Client Director
Find Out How
We find the one single promise or anchor which is unique to your brand and then go on to create the tone of language that forms the premise of all your communication.
DigiGro has an excellent team and did an amazing job on my website. I really appreciate the team work and can recommend them to my contact list. keep up the good work.

It is really a great moment for us to work with you guys. Very professional, everything went as per your road map & calendar. I once again thank the entire team & appreciate the consistent follow-ups in getting inputs from us. I thank you for your support in making the JVIT website very attractive. All the best.

We have had the absolute pleasure of working with Digigro on multiple projects . We have found them to be organized, professional and skillful. We would readily recommend them to any organization as a potential web services partner.

DigiGro is the best web development company we have ever worked with. Our school website was developed exactly as we wanted. With an eye for detail & a great understanding of clients needs. Great project management with the delivery of desired result. Highly recommend this company for education based web development!

The team at DigiGro has been really helpful in running our school website smooth and they are really swift. We trust them to manage and maintain our website and our social media pages without any worry. Best decision to have entrusted them with our website Maintenance and service.

Happy to be associated with you guys,

At a time when we were looking for a vendor who can provide a great website experience. The cooperation earned from your team has been unassailable. Their advice on digital marketing and digital platform ideas have been exceptional.

In our 3 years of operations we have seen Digital marketing companies face tough time to provide consistent support.

Communication, Support and over all experience from sign to design is remarkable and we see a very clear structured process in there operations.

We the PNC Cognitio family wish them all the best in every endeavor and look forward for a long-lasting association with them.

We are very happy about the work you are doing from past an year and this is a small testimony from our end:

DigiGro has helped us redesign our website. They not only reduced its loading time by implementing the right technology but also ensured that it is attractive and easy-to-use. They developed each module by understanding our needs effectively and ensured seamless communication for managing and delivering regular updates.

Its almost a year now and we can see lot of improvement in our website traffic, the creatives designed for social media are just awesome, we Highly Recommend them if you are looking for a vendor for all kind of digital exercises.